VayuSena
The SSG in 1965
"It's difficult to see what they could have achieved. What this operation aimed to achieve is difficult to understand."
- IAF Air Chief Marshal P.C.Lal
The Pakistani Army's special forces were raised as the Special Service Group (SSG) in 1956 using the cadre of 19 (Para) Baloch. This special force was trained in sobotage and disruptive activities behind enemy lines.
On the night of 6th September, around 200 officers and men of the SSG were air-dropped by C-130s near the Indian airbases of Adampur, Pathankot and Halwara on a bold mission to destroy Indian combat aircraft and put the bases out of action. They would then ex-filtrate back to Pakistan, following the numerous rivulets and streams that flow from Punjab back to their home territory.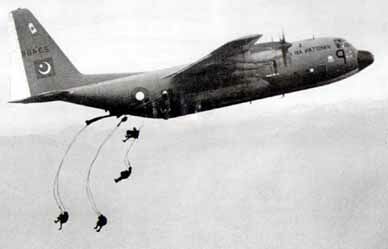 Pakistani troops drop from a PAF C-130
Pathankot
It was wee hours of the morning when para-troopers landed at Pathankot. The pitch darkness and difficult terrain (it was criss-crossed by canals, streams and the fields were full of water) prevented them from regrouping. Most of them, including their Commander, Major Khalid Butt were arrested by the Police and the Army within the next 2 days.
Adampur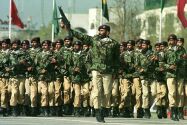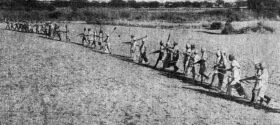 SSG wows the Pakistani public with their marching (Left). SSG is marched off by the unimpressed Indian public in 1965 (Right).
This group too faced the same fate as the Pathankot team - unable to assemble, they tried to hide in the cornfields during the day. However, the farmers formed mobs and captured them, and some were even killed by the Punjabis. Their Commander, Capt Durrani was also taken POW.
Halwara
Some of the men landed within the airfield perimeter itself and were soon rounded up. However the detachment commander, Major Hazur Hasnain, and one of his men managed to get away in a captured Jeep.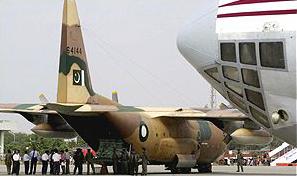 Pakistan sent supplies for the Gujarat earthquake relief aboard a C-130
It is clear that troops possesed little knowledge of the terrain and were dropped in too large a number to be effective. The final analysis evealed that more than 180 commandos were dropped out of which 136 were taken prisoners, 22 were killed in encounters with the army, police or the civilians and 22-15 managed to escape to Pakistan. Considering the fact that Pathankot is barely 10 miles from the IB, this number is'nt too much of an achievement.
Further Reading

Comments or Questions? Contact Us
This site is best viewed in Internet Explorer 5.5+ at 1024*768