VayuSena
Wing Commander Rajiv Kothiyal, KC
Adapted From:
Sam's IAF Page Down Under And bangalorebest.com
Wg Cdr Kothiyal earned international fame and respect when he flew the LCA TD-1 (on its first on Jan 04, 2001) in a textbook manner. He is as experienced as a test pilot can ever be and has flown many differenr varities of aircraft. He was flying IAF MiG-29s before he joined the LCA project.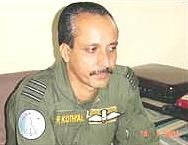 He talks here about the LCA program:
Your choice of career. Could you tell us something about that?
In school, I was doing quite well in my studies, but I felt that it was a dull and dreary routine, without much excitement. I felt that the experience of flying would be much more exciting than taking up a career in the IAS, or becoming a doctor, engineer etc. I took to piloting, wherein everyday is a new day. I started my career as a Cadet in 1978 and in this long journey of 22 years of flying life, I became Pilot Officer(1979), Flight Lieutenant(1983), Sq. leader(1990) and Wing Commander in 1996.
How did you feel when you were chosen for the test flight of the LCA?
Actually, Cosmonaut Rakesh Sharma was inducted initially for this test flight. He was associated with the project for a long time. But it came to me as he left the project in 1998 on account of his age. The test to select the candidate who would operate the maiden LCA flight was thorough and rigourous. I became the filtrate of fifteen pilots to be sent to California for special training.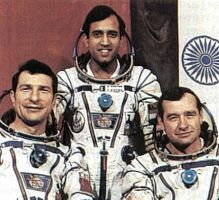 Cosmonaut Rakesh Sharma with his Soviet crewmates
In 1998, it was decided that I would be the one to fly the first flight. I have flown it in 2001, so I have waited for 2-3 years, but it was a very unique and thrilling experience.
How did it feel to be flying a fighter with the "Made in India" tag?
The feeling was absolutely great. I have been flying other "Made in India" airplanes but have never had the opportunity to fly one for the first time. The first flight of any airplane is full of uncertainties and I am glad to say that we accomplished the first flight of the LCA successfully.
Do you justify the hype that surrounds the LCA and did you find the aircraft technologically competent as compared to other frontline fighters in the air force today?
I think, LCA is one of the best things that has happened to the aviation industry in India and therefore, the hype surrounding it is entirely justified. However, we have a long way to go before we can prove that the LCA is as good as it is supposed to be. As far as technology is concerned, LCA has the latest technology in terms of fly-by-wire, multifunction displays and composite wings. As the flight test programme progresses we would be in a better position to say how well it compares with fighters like Mirage 2000, JAS-39, etc.
What other aircraft have you flown?
I have flown about 35 different types of airplanes. The list includes An-32, AVRO, and Learjet among commercial flights. About 20 US aircraft flown during my test pilots' course in the US. Some of the main airplanes are - Mig-29, Mig-21, Mirage 2000, F-15, F-16, F-18, F-4, F-8, A-7, A-37.
Do you think Indian students should not be given visas to go abroad to preserve our indigenous technology?
No, I don't think so, because we should not have a bonded labour force. If the guys feel that they should contribute their worth for the betterment, advancement of Indian industry then they themselves should opt to stay and work in India. However, I do feel that the aviation industry could be privatised to a certain extent so that providing incentives in terms of cash or kind could retain those who are really talented.
On 29th September 2001, Wg Cdr Rajiv Kothiyal was awarded the Iven C.Kincheloe trophy for best Professional achievement by the Society of Experimental Test Pilots(SETP), headquartered at Lancaster California, USA. The award is given every year by the SETP after getting nominations from all current fights test programmes of the world.
SETP is an internationally recognised professional body of test pilots with members from several countries. Membership to the society is open only to pilots who have carried out at least six prototype flights.The award was intituted in the memory of Captain Iven C. Kincheloe, a leading US Air Force test pilot, who died while testing the F-104 Starfighter in 1958. It is the highest award given to any test pilot in the world.
Wg Cdr Kothiyal along with Wg Cdr Banerjee (he piloted 6 of the first 12 test flights of LCA TD-1) presented a paper on the first flight of LCA at the SETP symposium prior to the SETP's annual awards function. The paper was on the technology demonstrator version of the LCA and described the ups and downs that it faced through its developmental programme, including crippling US sanctions.
"I almost fell down from shock when my name was announced," Kothiyal said. Air Marshal(Retd) Philip Rajkumar, Director of National Flight Test Center(NFTC) in Bangalore, said the recognition came as a pleasant surprise. "When I forwarded Kothiyal's nomination, I never expected anything because India's LCA programme is a small step considering other leading world fighter projects."
Kothiyal was picked up for this award at a time when leading air forces of the world are propelling ahead with combat programmes such as the F-35 Joint Stirke Fighter(JSF), F-22 Raptor, F-18E Super Hornet, and the Su-47 Berkut programme of Russia.
"What they say is that technologies used in the US or other developed countries are well known. But for India to have such technologies and for a pilot to successfully test them, this has to be appreciated. This is the reason for the award," Air Marshal Rajkumar said.
On 12th October 2001, Wg Cdr Rajiv Kothiyal was awarded the prestigious Kirti Chakra(KC) by President Shri K.R. Narayanan at a Defence Investiture award ceremony held at Rashtrapati Bhavan. His exceptional professionalism, courage and bravery while test flying the LCA won him the honour.
Further Reading

Comments or Questions? Contact Us
This site is best viewed in Internet Explorer 5.5+ at 1024*768