Home >> The IAF Today >> Interview/Experiences >>
VayuSena
Wg Cdr (retd.) Padmanabha Ashoka
© Avia, Aeronautical Society Of India (AeSI)
By Srinivas Bhogle, Chief Editor
[Interview dated 08.Apr.2003]
Wing Commander P Ashoka was a test pilot that served with the IAF and the Indian industry with exceptional service. When he retired in 2002, at the age of 68 - he had a flying career which stretched an amazing 50 years! Over the years he flew over 100 different aircraft types, accumulating 8000 hrs or flying time.
Is flying an innate gift or can the skill be acquired with experience?
Oh, I suppose any one can learn how to fly a plane well if he or she has the necessary motivation and the willingness to work very hard. It obviously helps if you are naturally gifted; however fighter flying and test flying require special aptitudes that not everyone may have.
So what would you say makes a successful pilot?
Many things, really. The ability to fly accurately, to push the plane to its limit, to stay cool even when things get difficult, to simultaneously concentrate on a number of things, giving attention to all the 'elements' in the right proportion ... but, most of all, the successful pilot must really love flying. Your motivation as a pilot depends on the degree of real joy that you get from flying.
Did you enjoy flying?
Oh, immensely. That's why I flew planes for half a century!
But you always chose the most difficult roles: first you were a fighter pilot and then you were a test pilot. Why?
I suppose I relished the bigger challenges. It could also be due to the kind of education and training that I received. At the National Defence Academy (NDA) we received the most marvelous instruction ... even now those old memories are so stirring and overwhelming. I've still not forgotten our morning prayer! And then at the Empire Test Pilots School in Farnborough, UK, they really grilled us very hard. We could be flying many different types of planes on any given day with virtually no help from anyone! We were therefore trained rather rigorously for the different challenges that lay ahead in a test flying career.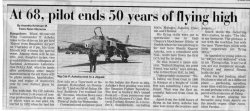 A Times Of India news item (Click to read)
What's the difference in being a fighter pilot and a test pilot?
Well, both involve challenges and risks. The risks are different but probably of the same order. In the long run, a test flying career may entail a higher level of risk over a longer period. While the fighter pilot needs raw courage in facing the enemy and other wartime challenges, the test pilot requires cool courage and equanimity to handle the risks that he constantly faces in the execution of his test flying tasks. Test flying is all about bringing to bear your personality, judgement, sense of proportion and that all-important thread of reasonableness in your flying tasks - not to forget a calibrated aggression in flying.
And the ability to interact intimately with the aircraft's design?
Yes, he must have a personality which makes interaction with him easy and rewarding - at all levels. The test pilot's challenge lies in pushing the aircraft to its limit legitimately - and not foolishly. A timid test pilot will not be able to explore the full capability of the aircraft, while a reckless test pilot would push the aircraft perilously beyond safe boundaries. A good test pilot needs a judicious balance between the two.
Which then is the easier role: fighter or test pilot?
A good pilot could perform both roles successfully whereas a bad pilot might fail in both. But to succeed in either of the two roles one needs that certain intangible, but magical, quality called "dash". It is something not easy to define and yet easy to detect. The closest approximation could be "daring". To be a successful test or fighter pilot what is really needed - other than flying ability - is this quality called "dash", tempered with prudence.
What would you consider to be the pilot's most difficult flying challenge: formation flying?
Although it looks absolutely spectacular, formation flying isn't as difficult as it seems to be. The pilot flying in a formation must essentially follow the leader. All the time the pilot is making minor adjustments: a little more to the left, to the right, to the left ... or ... open throttle a little, close a little, open throttle again a little ... you know, that sort of thing. However, formation aerobatics, like our Suryakirans do, requires tremendous skill and precision.
… Or flying in bad weather?
There are really two major problems while flying in bad weather: first, the visual reference is missing when you are inside the clouds and, second, there could be severe turbulence.
Which is the bigger worry?
Turbulence by itself is usually the smaller worry. It can of course be very disconcerting ... It's as if the atmosphere is kicking you, and you have to fight with the controls to stay steady. But, controlling an aircraft inside the clouds can be much more difficult. Let me see if I can explain this to you: when you walk, the visual reference and gravity provide you with a sense of balance. But when you are flying, and have lost your visual reference to the horizon, there is often an epic battle between your physiological signals and your instruments. Your instruments tell you that you are straight, but every human instinct that you possess seems to tell you - again and again - that you are not straight at all; that you are turning violently. Our proclivity to trust our instincts is very, very strong; it requires extraordinary discipline and mental strength to fight off these instincts and implicitly trust your instruments.
You have to conquer that fear.
Absolutely. In many ways, that's what being a good pilot is all about: you must conquer your fear. If something is bothering or worrying you, do it again and again … 10, 20 or 100 times …till the fear goes away. Till you know that you can do it without the slightest hesitation. There are profound rewards in meeting such challenges; in particular there is greater and greater confidence in one's ability to tackle difficult and potentially risky flying tasks successfully.
And when you think that you have conquered that fear, could you turn complacent?
No pilot, however talented or capable, can afford to turn complacent. Don't forget that flying is tough business: if you crash, you die! Never take your aircraft for granted. I remember when I had to fly different types of aircraft on a single day, I always took time off to mentally get attuned to the different cockpits and other characteristics of every aircraft.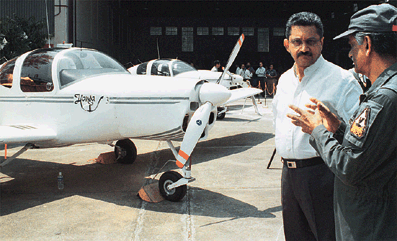 Wg Cdr P. Ashoka briefs the Secretary to the Ministry of Civil Aviation, Mr K. Roy Paul
at the handing over of three new Hansa aircraft in Bangalore on 22.Mar.2002. [© Deccan Herald]
Can we talk of the greatest pilot of all time? The Don Bradman among pilots?
That would be only a romantic idea. Look, there are a lot of very good pilots - and I feel very proud that our IAF has so many of them - but I don't believe that pilots can be compared. We can certainly differentiate between good and bad pilots, but that's about it.
How does a trained eye distinguish between good and bad pilots?
All good pilots show a high level of motivation as well as a level of thoroughness in their flying. You can see their confidence and notice it in the way that they take off and land. They anticipate problems and so are prepared to handle them. Just as when you are driving a car around hairpin bends on a narrow mountain road, the only way to avoid a collision is to expect head on traffic at every bend and keep meticulously to your side.
You must be the idol of many pilots.
I have had a most enjoyable and rewarding flying career. But we shouldn't make too much of a song and dance about this. The real heroes are elsewhere - giving their lives fighting for the country or dedicating their entire life in the service of others.
Further Reading

Comments or Questions? Contact Us
This site is best viewed in Internet Explorer 5.5+ at 1024*768